The one bikerental
on the island
To bike around the island is by far the best way to experience Vaxholms beautiful environment. It's flexible in a close connection to the nature. We are located only 2 minutes walk from the ferry & provide city bikes, e-bikes and a variety of equipment for your child or luggage. Our experienced staff will present you maps + tailored tips on tours and attractions. With us you can rent by the hour, day or week. Welcome!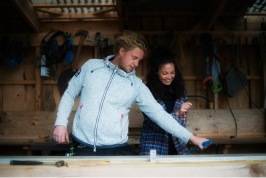 We are the island's only bicycle rental and one of our strongest attributes is thus to satisfy needs. Vaxholm cykeluthyrning started in 2018 with the intention of offering a central bike rental. We note daily the city's growth, the challenges of the tourism industry and our own course, which makes us prone to a fast and stable development; everything to satisfy your desires.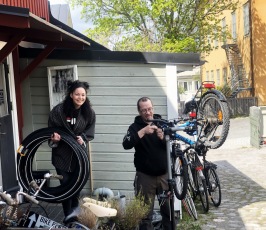 THANK YOU! for the 2022 season. It's been great to meet new and old guests. Welcome back to us in 2023.
Opening hours *
CLOSED FOR THE SEASON
--------------------------------------

"If you are spending a couple of hours or day in Vaxholm, the best mode of transport is by bike! Vaxholm Cykeluthyrning is an adorable local shop just a 2 minute walk from the ferry. The owners of the shop are so kind and efficient, the rental process is so easy and it was the best two hours cycling around the island! I wish I could do it everyday! Thank you so much! Tusen tack! " Jaime J
"Lottie was very efficient for us and offers good advices." Emmanuel M
I am actually a local, just wanted to hire a bike to get out to Bogesund and pick mushrooms. The rental was quick and the bikes are great with all equipment needed including breaks and gears
- even basket for the mushrooms. :) Thank you!" David Q